Effective Optimization of the manguard is very much necessary for any secure premises. This way a security officer may depute the manguard depending on the vulnerability of that area. We get this data from the number of intrusion attempts received from the security system.
Manguards' efficiency can be optimized by installing Access Control System at the entry which helps them recognize who is the authorized person and who is not and thus act accordingly.
Deployment of the manguards can be done effectively by integrating sensors with CCTVs so that they see the footage only when the alarm triggers and can be made to patrol the area rest of the time thus avoiding unnecessary guards hiring.
Sensors can easily detect random movements by people nearby the walls of the premises and trigger the alarm as well as the CCTVs to aid the manguards in preventing the intrusion from taking place.
Anti-Tailgating sensors are very effective for manguards as they help them avoiding unauthorized entry being done by following the authorized person.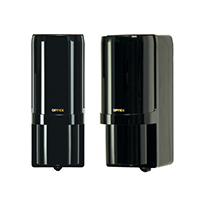 60m outdoor active infrared beam battery-powered with channel selection feature
Battery-operated dual AIR beam
Stackable (channel selection)
IP55 rating
Triple tamper functions
60m outdoor hardwired Infrared beam
hardwired dual beam set
99% beam blocking stability
IP65 structure with high sealing rubber packing
High grade spherical lens
20m indoor/outdoor hardwired active infrared beam
Hardwired dual beam set
99% beam blocking stability
IP65 structure with high sealing rubber packing
High grade spherical lens
30m point to point detection beams. Built for immediate perimeter applications.
Easy Alignment wit visual and audible Indicator
Light reduction filter
Max 99% beam blockage
Attractive slender design allows to harmonize with any type of architechture
24m outdoor PIR hardwired curtain detection range, hardwired model
Advanced temperature compensation
Size judging function for reliable detection
Patented Double Conductive shielding technology to reduce false alarms
24m outdoor curtain range PIR, battery-operated model
Curtain detection left and right
Adjustable detection range from 2 to 12m
Animal tolerant
Battery-operated suitable for wireles transmiters
12m per side curtain detection, outdoor PIR sensor. Hardwired bi-colour model with anti-masking.
Hardwired curtain PIR up to 12m per side with anti-masking
Completely independent detection setting per side
Versatile and easy-to-install design
Not affected by environment or small animals
12m per side detection, outdoor PIR motion sensor, standard wireless model.
Wireless curtain PIR up to 12m per side
Completely independent detection setting per
Versatile and easy-to-install design
Not affected by environment or small animals