RLS-2020S (Indoor/Outdoor)
RLS-2020S (Indoor/Outdoor)
LASER SCAN DETECTOR

20m x 20m, 95-degree detection area
Vertical and Horizontal detection modes
Multi-angle Adjustment Shell Structure (M.A.S.S.)
Unique detection algorithm
Available for Indoor/Outdoor
IP66
RLS-2020S is an IP/PoE laser scan detector for outdoor and indoor use, providing up to 20 x 20m detection range horizontally or vertically. The RLS-2020S is a compact and highly customizable detector that helps protect in an unobstructed way, houses, buildings, controlled areas by creating an invisible laser wall or plane, and detecting any intrusion breaching it.
For indoor applications, the RLS-2020S can be set up in high-resolution mode which enables very small object detection; it can also be set up in "indoor throwing mode" allowing to detect an object been thrown into a controlled area.
The RLS-2020S generates unique REDWALL Event Codes that are already integrated with many popular Video Management Systems (VMS), allowing it to trigger events. In addition, it also supports multiple network protocols for integration with VMS platforms and Physical Security Information Management (PSIM) platforms which may require HTTP/HTTPS, SNMP, etc.
20m x 20m (65ft. x 65ft.), 95 degree detection area
Vertical and Horizontal detection modes
Multi-angle Adjustment Shell Structure (M.A.S.S.)
Unique detection algorithm
Automatic area setting function
Advanced area setting
4 adjustable detection areas on IP connection
Total 3 outputs can be assigned for analog connection
Supporting multiple network protocols.
Anti-rotation, Anti-masking, Soiling, Trouble, Tamper, DQ outputs (Selectable)
Compatible with Power over Ethernet
Paintable housing
Indoor and Outdoor use
Indoor high-resolution mode
Indoor throw-in mode
Area selection
D.Q. circuit
Integration to external devices and applications with REDWALL Event Code.
IP66
Building
Perimeter
Approach
Roof / Ceiling
House
20m x 20m, 95-degree detection area
Vertical and Horizontal detection modes
Multi-angle Adjustment Shell Structure (M.A.S.S.)
Unique detection algorithm
Available for Indoor/Outdoor
IP66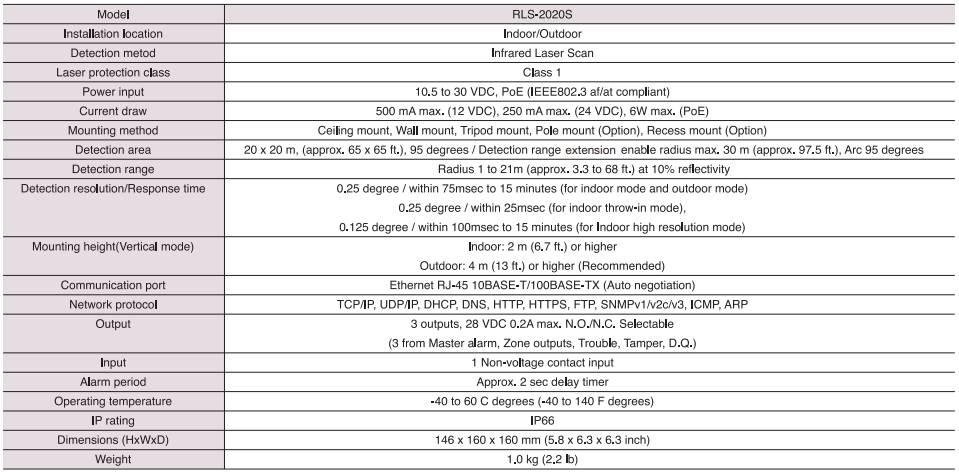 Laser Window
for RLS-2020 series
Pole mount bracket
for all SIP series and all RLS series
Laser Area Checker
for RLS-2020/3060
Recess mount bracket
for RLS-2020